Last updated on April 3rd, 2020
Canon Speedlite 270EX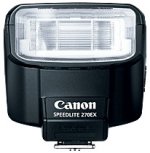 Canon's new Speedlite 270EX adds power and flexibility for enhanced flash photography anywhere. Light, compact and small enough, the Speedlite 270EX features 2-step coverage for 28mm and 50mm focal lengths, plus a highly useful bounce-flash function for amazingly easy, polished results. The Speedlite 270EX is easily set-up and communicates color temperature information with your camera for optimal white balance, and recharges silently in less than 4 seconds.
Compact, lightweight design
28mm and 50mm 2-step coverage
Bounce feature
Simple set-up using the camera's rear monitor
Color temperature communication
Optimized recycling time (approx. 0.1-3.9 seconds)
Quieter charging.
Canon Speedlite 580EX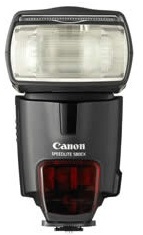 Combining the strengths of its predecessor 550EX while providing additional functions at higher speeds, the SPEEDLITE 580EX is Canon's new flagship flash unit featuring a higher maximum guide number, shorter recycle time, autozoom control for image sensor size, and design improvements for easier handling by digital SLR users ranging from professional to advanced amateur.
Increased maximum guide number to 58 (105mm, ISO 100 in meters).
25% Shorter recycle time.
Decreased dimension and weight.
Dedicated functions for digital SRLs.
Redesigned interface.
Accessories.
Canon Speedlite 480EG

This large, rugged flash with a "potato masher" grip offers powerful light output (guide number 68/223 @ ISO 100, meters/feet), rapid recycling and versatility to work in virtually any situation. Can be used under TTL automatic exposure control with EOS and T90 cameras connected via the TTL Shoe Cord E; under external-sensor AE control with any PC socket-equipped camera via the Synchro Cord 480; and under manual control at three power settings – full, 1/4 and 1/16. Twin flash tubes in a circular reflector assure uniform light distribution that users can rely upon, thanks to the heavy-duty, durable construction of the unit's housing and components. Comes w/ wide (20mm) and tele (135mm) panels.
Canon Speedlite 420EX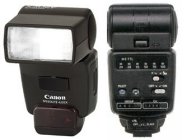 Fully E-TTL compatible, and reverts to standard TTL operation when used on older EOS bodies or the T90. The fully swiveling bounce head zooms automatically over a range of 24mm-105mm. Wireless E-TTL compatibility permits it to function as a "slave" unit, triggered by a 550EX; ST-E2, or MR-14EX. Any number of 420EX and 550EX Speedlites can be combined as "slave" units. Guide Number 42/138 at ISO 100 – meters/feet @ 105mm setting.
Canon Macro Ring Lite MR-14EX flash unit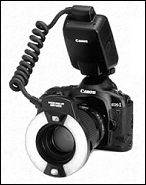 The MR-14EX ring flash consists of two semi-circular flash tubes capable of fine flash ratio lighting control between left and right tube (and the ability to flash either or both tubes), for natural looking reproduction. Equipped with a wireless transmitter function, when the MR-14EX is employed as the master flash unit with one or more slave unit Speedlite 550EX for back lighting or accent lighting, wireless multiple autoflash-controlled shooting can be simply performed to great effect. The MR-14EX also features:
Maximum guide No. 14/46.2 (at ISO 100 in meters/feet)
Maximum control distance 20mm from the front of the flash unit
E-TTL wireless autoflash
Manual flash
High-Speed sync (FP flash)
FEB
E-TTL wireless multiple autoflash (with lighting control)
Modeling flash, etc.
Canon MT-24EX Macro Twin Lite flash unit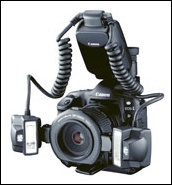 Twin-head macro flash unit, for directional lighting in close-up photography with full E-TTL automatic flash control (including with Digital EOS SLR bodies).
Each head can be rotated around lens in an 80° arc, swiveled inward or outward over a 90° arc, and swiveled up and down over a 90° arc. Each head is removable, and has both a standard shoe-mount and 1/4-20 female tripod socket at the base to facilitate mounting off-camera.
Powerful guide number (24/72 meters/feet) allows smaller apertures and greater depth-of-field when necessary. Incandescent focusing lamps, and two different types of 1-second modeling flash allow easy focusing and previewing of lighting effects.
Canon Speedlite Transmitter ST-E2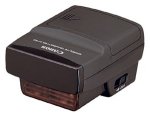 Developed in conjunction with the Speedlite 550EX and the EOS-3 camera, this master control device for a wireless Speedlite flash system meets and exceeds professional and advanced amateur standards. Its dedicated transmitter controls an unlimited number of 420EX or 550EX Speedlites as slave units up to 33 ft. away outdoors and 49.5 ft. away indoors. It is mounted as a clip-on with shoe lock lever and locking pin.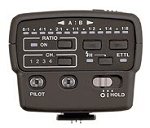 Compatible with E-TTL autoflash functions, groups of 550EX Speedlites are able to take advantage of High-speed Sync, FE Lock, Flash Exposure Bracketing, and Pre-flash evaluative metering. Built-in AF-Assist Beam. The AF-Assist Beam automatically fires in low-light and low-contrast situations to assist the camera's autofocusing system. Transmitter ST-E2 sets and controls all functions of its Speedlite 550EX slave units. Flash ratios, for example, are controllable between 2 groups of 420EX and/or 550EX Speedlites, over a six-stop range. Wireless E-TTL with full ratio control possible with EOS-1D, EOS 113s, EOS 10D, EOS Digital Rebel, EOS-1v, EOS-3, Elan 7/7E, Rebel Ti and Rebel K2.
Canon Off-Camera Shoe Cord 2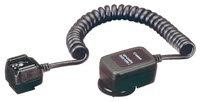 This useful accessory maintains all on-camera flash functions for a Canon Speedlite used off-camera, at distances up to 2 ft. / 60cm. Moving the Speedlite off-camera results in better control over lighting angle. The Off-Camera Shoe Cord 2 is not compatible with the EOS 630 or RT. Although fully functional with all other EOS models, radio interference emitted by this product may exceed the specified limits in the United States (FCC), Canada (DOC), and Germany (FTZ) when used with the EOS 10s.
Canon Data Verification Kit DVK-E2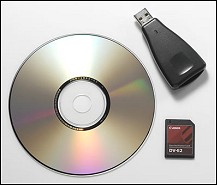 The latest version of the Canon Data Verification Kit is designed to deliver validation of an unmodified original image from a single camera body, being able to detect a single bit discrepancy.
The new kit is much smaller than the old and uses a unique SM (secure mobile) card which is the same size as a Secure Digital card. The card reader connects to a computer USB port (only Windows 2000/XP compatible at the moment), drawing the power from the same USB port.
This kit is aimed at law enforcement, insurance, news and other such agencies and can detect single bit discrepancy in modification of an image since it was taken. Canon is applying for ISO 15408 certification (evaluation criteria for IT security) for the Data Verification Kit to further validate its application. The acquisition of ISO 15408 certification will give international recognition to the originality of images.
[from: Phil Askey's Digital Preview]

Canon Wireless Controller LC-4 Set
This wireless controller consists of a transmitter and receiver, and is effective up to 100 m (330 ft). The receiver connects to the EOS-1V's remote control socket.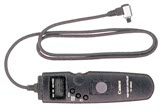 Canon Timer Remote Controller TC-80N3
A wired remote controller equipped with a timer.

Canon Remote Switch RS-80N3
A remote switch with an 80 cm (2.6 ft) cord.
Canon Anti-Fog Eyepiece ED
Canon Angle Finder C

Angle Finder C lets you adjust the viewing angle while providing a 2.5x magnification for critical focusing with a full screen image that also shows exposure data. Provided with built-in dioptric adjustment for variations in eyesight.
Canon EOS Link Software ES-E1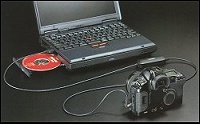 This software allows a PC to be connected to the EOS-1V and enables customization and shooting data management. This software allows a PC to be connected to the EOS-1V and enables customization and shooting data management.
A CD-ROM for Windows®98. Bundled with Connecting Cable ES, a cable to connect the PC's USB port and the EOS-1V.
Functions: Personal Function setting / Shooting data management.
---
Copyright, Authorship, and Ownership statements
All text and images of this page are copyright ©️ Chrysis.net unless otherwise stated - please see individual cases for authorship and copyright details. The specimens pictured are from the authors' or other collaborators' personal collections and from the collections of various museums. Unless otherwise specified, the whole content of this web site is for personal, non-commercial, scientific, and educational purposes given proper accreditation to the page from which they were derived are provided, and under Chrysis.net Terms and Conditions.
For citation purposes
Agnoli G.L. & Rosa P. (2020) Canon EOS accessories, in: Chrysis.net website. Interim version 05 July 2020, URL: https://www.chrysis.net/photography/canon-eos-accessories/.