Last updated on June 4th, 2020
An overview of the latest professional and prosumer digital cameras from Canon.
Canon EOS 70D
Year of marketing: 2013.
Canon's innovative Dual Pixel CMOS AF enables you to shoot video like a camcorder with smooth, fast, and accurate autofocus; lets you enjoy instant and precise autofocus even when shooting stills from a variety of angles with the freedom provided by the Vari-angle LCD; and provides amazing autofocus power with 103 compatible Canon EF lenses when shooting photos or video.
20.2 Megapixel, APS-C CMOS sensor
DIGIC 5+ processor
19 cross-type AF points
Up to 7fps full-resolution shooting
Full-HD Movie shooting with instant and precise AF
Remote control
Integrated Wi-Fi
ISO 12800 (H:25600)
Touch screen, Vari-angle display.
---
Canon EOS 6D
Year of marketing: 2012.
The Canon EOS 6D is the world's smallest and lightest full-frame DSLR. It features a 20.2 Megapixel Full-Frame CMOS sensor, a wide ISO range of 100-25600, expandable to L: 50 – H1: 51200 and H2: 102400, for incredible image quality even in low light, and a DIGIC 5+ Image Processor that delivers enhanced noise reduction and exceptional processing speed.
20.2 Megapixel, Full Frame CMOS sensor
DIGIC 5+ processor
11 AF points up to -3 EV
Full-HD Movie shooting
Integrated Wi-Fi
ISO 100-25.600 (expandable to ISO 50 – 102.400)
Fully integrated GPScapability
Lightweight magnesium alloy body.
---
Canon EOS 5D Mark III
Year of marketing: 2012.
The EOS 5D Mark III is designed to perform. A newly designed full-frame Canon CMOS sensor, the Canon DIGIC 5+ Image Processor, the High Density Reticular AF and an extended ISO range provide exceptional sharpness and performance. Additional features include an Intelligent Viewfinder, Canon's advanced iFCL metering system that utilizes AF and color information for optimizing exposure and image quality, professional-level high definition video capabilities, High Dynamic Range (HDR), and Multiple Exposure mode.
22.3 Megapixel full-frame CMOS sensor
ISO setting 100-25600 (expandable to 50, 51200, 102400)
DIGIC 5+ Image Processor
61-Point High Density Reticular AF
iFCL Metering with 63 zone dual-layer metering sensor
HD Video with manual exposure control
Up to 6.0 fps continuous shooting using a UDMA CF card
Intelligent Viewfinder with superimposed LCD display
High Dynamic Range (HDR) and Multiple Exposure modes
Dual Card Slots for CF and SD cards.

 Specifications
---
Canon EOS-1D X
Year of marketing: 2011.
The EOS-1D X is the new flagship camera in the Canon DSLR range, taking the best of the EOS-1D and EOS-1Ds cameras and melding them into a single unit that gives both high resolution and high speed shooting. By taking the EOS-1D Mark IV and making radical changes to every aspect of the camera's build and design, the EOS-1D X stands head and shoulders above everything that has gone before to offer high resolution, high frame rate and high ISO shooting with a full-frame CMOS sensor, and industry leading HD Movie shooting in one camera.
18.1 Megapixel, Full-frame CMOS sensor
61-point AF with up to 41 cross-type AF points
Dual "DIGIC 5+" processors
Up to 14fps Shooting
ISO 100 to 51,200 as standard, ISO 50 to 204,800
+/- 5 Stop Exposure Compensation
Full HD Movie shooting with ALL-I or IPB compression.
---
Canon EOS 60D

Year of marketing: 2010.
Exactly after two years from the debut of the EOS 50D, the new EOS 60D is designed for the most demanding amateur photographers and professionals with special needs for compactness and resistance. The body has been completely redesigned both in form and in layout of controls, with the most often used functions grouped together to provide a faster access.
18MP CMOS sensor (APS-C)

Canon Digic 4 processor
3″ tilt-and-swivel LCD screen with 1040k pixels of resolution
Continuous shooting: 5.3 fps per 58 JPEGs
Sensitivity: 100-6400 ISO (Hi: 12800 ISO)
9-point AF system
iFCL exposure system with 63 areas
video modes: Full HD 1080p at 24/25/30 fps or HD 720p at 50/60 fps
Integrated flash GN13 (able to control distant flashes)
In-camera RAW image processing: brightness, contrast, white balance or correct distortion or chromatic aberration
SD/SDHC/SDXC memory card slot (up to 2TB).
---
Canon EOS-1D Mark IV
The EOS-1D Mark IV is the perfect choice for professional photographers. With a completely redesigned 45-point AF system, a new AI Servo II AF focus tracking system, an APS-H sized 16.1 Megapixel CMOS Sensor, Dual DIGIC 4 Image Processors, a spectacular ISO range of 50- 102,400, an advanced Live View shooting, the Full-HD movie recording, the EOS-1D Mark IV is the choice of professionals looking for the ultimate in SLR performance.
16.1 Megapixel APS-H CMOS sensor
New 45-point Area AF sensor
ISO 50 – 102,400 with an advanced noise reduction system
HD movie with manual exposure control and multiple frame rates
Dual DIGIC 4 Image Processors
10 fps continuous shooting up to 121 Large JPEGs or 28 RAWs
3.0-inch ClearView II LCD monitor
Magnesium alloy body with exclusive dust- and weather-resistance
Shutter durability up to 300,000 cycles.
---
Canon EOS 7D
Made for advanced amateur photographers and for professionals, thanks to the following features: 18MP APS-C CMOS sensor, with a new structure of the photodiodes and micro lenses; Dual DIGIC 4 processors with a recording speed of 8 fps; Full HD video function with the capability of adjusting exposure and frame rate; an entirely redesigned AF system.
19-point AF system (all cross-type)
two DIGIC-4 processors
Full HD video recording
100% coverage viewfinder
3.0 inch Clear View II LCD screen
Wireless flash control
Magnesium alloy body with environmental sealing.
---
Canon EOS 5D Mark II
The Canon EOS 5D Mark II succeeds the EOS 5D. The EOS 5D Mark II features a newly developed full-size 21.1-megapixel CMOS sensor that offers an expanded standard ISO sensitivity range of ISO 100–6400 which can be expanded to ISO 50, 12800 and 25600.
21.1 Megapixel full-frame CMOS sensor
DIGIC 4 image processor
full HD (1,920 x 1,080 pixels) video recording at 30 frames per second (fps)
98% viewfinder coverage
high- speed and high-precision 9 AF points + 6 Assist AF points.
---
Canon EOS 50D
The mid-range Canon EOS 50D raises image quality and high-speed image processing to next levels with advancements in two key devices: the developed approximately 15.1-million effective pixel CMOS sensor (APS-C size) and the redesigned high-performance DIGIC 4 imaging processor.
15.1 Megapixel APS-C size CMOS sensor
DIGIC 4 image processor
ISO sensitivity settings from 100 to 3200, expandable to ISO 6400 and 12800
CFA 4.1 UDMA CF memory card format for high-speed data transfer
large 3.0-inch clear view LCD monitor with 160-degree viewing angle, 920,000 dots, and anti-reflection coating.
---
Canon EOS 40D
The new Canon EOS 40D is the successor model to the EOS 30D. Through the incorporation of state-of-the-art camera technologies, the EOS 40D offers high-level amateur users even more advanced functionality and responsiveness.
APS-C-size (22.2 x 14.8 mm) CMOS sensor with 10.1 Megapixels
DIGIC III image processor
Live View shooting function
ISO speed settings ranging from 100 to 1600 expandable to up to 3200
new larger 3″ LCD screen
high-precision all-point cross 9-point AF
6.5 frames per second for up to 75 continuous frames.
---
Canon EOS 5D
The Canon EOS 5D was developed to meet the needs of advanced amateurs seeking a high-performance 35 mm full-frame image-sensor-equipped digital SLR camera that is smaller and lighter than professional models.
full-frame digital reflex with a 12.8 Megapixel CMOS sensor
DIGIC II Image Processor
new larger 2.5″ LCD screen
high-precision 9-point AF with 6 additional points for focus tracking
strong and light magnesium-alloy body
new shutter durability-tested to 100,000 exposures.
---
Canon EOS-1Ds Mark III
Expanding upon the highly acclaimed functions of the EOS-1D Mark III launched in May 2007, the EOS-1Ds Mark III is a professional digital SLR camera designed to meet the rigorous demands of professional portrait, merchandise, and landscape photographers.
full-frame, 21.1-megapixel CMOS sensor
dual DIGIC III high-end image-processing system
high image resolution, low noise, and rich color gradation
ISO range from 100 up to 1600
high-speed, high-precision AF sensor of 19 cross-type points plus 26 assist points
300,000 shutter cycles
dust reduction system.

Source: Canon Camera Museum.
---
The flagship of the EOS series, the EOS-1 was released in 1989. It evolved into the EOS-1N in 1994.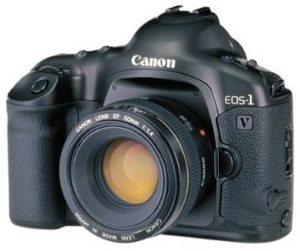 Since then, the EOS-1N has been choice of the professional photographers all over the world, consistently contributing to documentary and creative photography in myriad ways for over ten years. Now, a worthy successor to the EOS-1N has been developed. The EOS-1V is a professional AF SLR camera and the finest camera in the finest class.
Highest AF performance with 45-point Area AF.
High-speed shooting.
Rigid magnesium alloy body covers.
Water and dust resistance
Enhanced shutter durability of 150,000 shutter-cycles.

 Fonte: Canon Camera Museum.
---
Copyright, Authorship, and Ownership statements
All text and images of this page are copyright ©️ Chrysis.net unless otherwise stated - please see individual cases for authorship and copyright details. The specimens pictured are from the authors' or other collaborators' personal collections and from the collections of various museums. Unless otherwise specified, the whole content of this web site is for personal, non-commercial, scientific, and educational purposes given proper accreditation to the page from which they were derived are provided, and under Chrysis.net Terms and Conditions.
For citation purposes
Agnoli G.L. & Rosa P. (2020) Canon EOS cameras, in: Chrysis.net website. Interim version 15 July 2020, URL: https://www.chrysis.net/photography/canon-eos-cameras/.