Last updated on October 12th, 2020
12/2010 – We are proud to announce the partnership established with two reference subjects:
Società Entomologica Italiana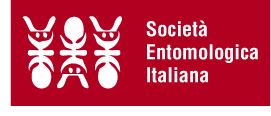 The Società Entomologica Italiana, one of the world's oldest and most prestigious scientific societies, was established in 1869 and hosted by the Museo Reale di Storia Naturale in Florence (now the Museo di Storia Naturale dell'Università). In 1922 the Society was transferred to the present location in Genoa, hosted by the Museo Civico di Storia Naturale "G. Doria". In 1936, the Society was established as an "Ente Morale".
The Società Entomologica Italiana is the only national society devoted to entomology in Italy. It is a non-profit scientific society for the promotion of entomological and natural history culture and for the improvement of basic and applied research on insects.
The main activity is the publication of two periodicals: the "Bollettino della Società Entomologica Italiana", issued three times per year since 1869, containing original scientific papers, short monographs, book reviews and society news; and the "Memorie della Società Entomologica Italiana", published annually since 1922, containing larger monographs and systematic reviews.

 http://www.socentomit.it
Forum "Entomologi italiani"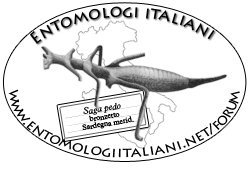 Born thanks to Marcello Romano's initiative, this space was created as a virtual meeting place for all those interested in entomology throughout the Italian territory.
It is aimed both at those who take their first steps in knowledge and study of insects, and at those who have already undertaken this long journey to reach more or less important goals in their researches.
"Amateurs" and "professionals" entomologists, united by this deep passion, can share their experiences and knowledge with other friends and colleagues, thanks to the potentiality of the new technologies.

 www.entomologiitaliani.net/
---
Copyright, Authorship, and Ownership statements
All text and images of this page are copyright ©️ Chrysis.net unless otherwise stated - please see individual cases for authorship and copyright details. The specimens pictured are from the authors' or other collaborators' personal collections and from the collections of various museums. Unless otherwise specified, the whole content of this web site is for personal, non-commercial, scientific, and educational purposes given proper accreditation to the page from which they were derived are provided, and under Chrysis.net Terms and Conditions.
For citation purposes
Agnoli G.L. & Rosa P. (2023) Chrysis.net partnerships, in: Chrysis.net website. Interim version 27 September 2023, URL: https://www.chrysis.net/about/partnerships/.