Last updated on April 9th, 2020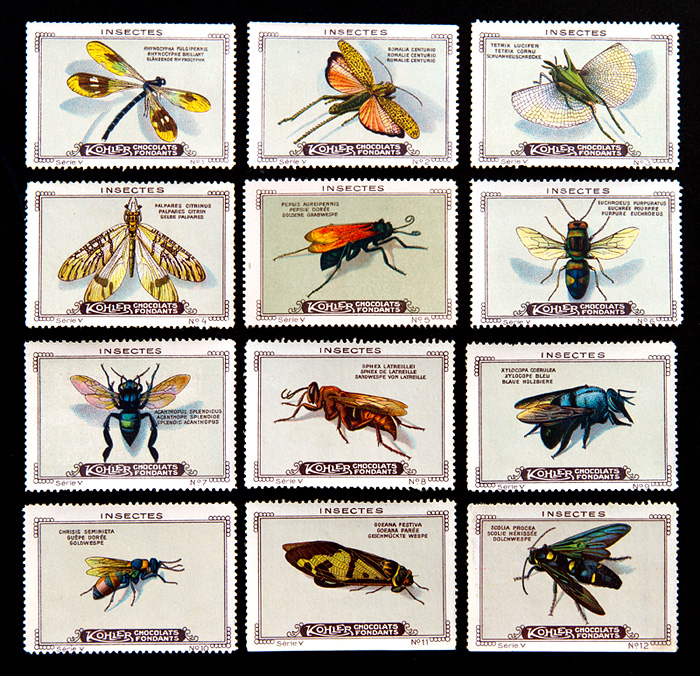 A complete set of 12 cards dating back to 1920 from Kohler Chocolates of Switzerland.
The cards are paper thin similar to large postage stamps in design and measuring approx 1.5″ x 2.25″ with text in French.
This set is the Ancient Series V and consists of 12 different images of types of flying insect.
Nestlé produced their own sets later in the 1920's based on the same illustrations.
N° 6 – Euchroeus purpuratus
N° 10 – Chrysis semicincta
---
Copyright, Authorship, and Ownership statements
All text and images of this page are copyright ©️ Chrysis.net unless otherwise stated - please see individual cases for authorship and copyright details. The specimens pictured are from the authors' or other collaborators' personal collections and from the collections of various museums. Unless otherwise specified, the whole content of this web site is for personal, non-commercial, scientific, and educational purposes given proper accreditation to the page from which they were derived are provided, and under Chrysis.net Terms and Conditions.
For citation purposes
Agnoli G.L. & Rosa P. (2023) Kohler Chocolats Fondants, 1920 – Series V, in: Chrysis.net website. Interim version 30 September 2023, URL: https://www.chrysis.net/chrysididae/images/stamps-kohler-chocolats-fondants-1920-series-v/.