Last updated on November 12th, 2020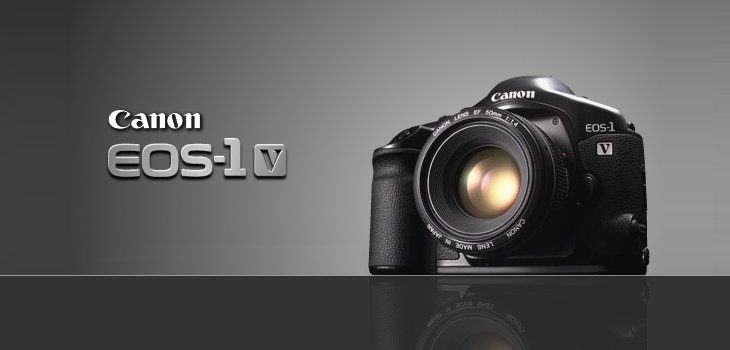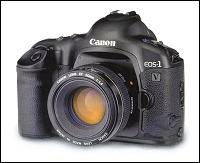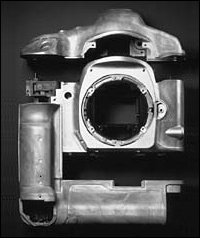 The new professional reflex Canon EOS-1V was planned for an extended use under hostile conditions.
Body. The EOS-1V body is made of aluminum and reinforced resin, while the caps – upper, bottom and dorsal – are in magnesium alloy. It turns out a light body, rigid, long-lasting, highly accurate and much technological. The 72 main joints and parts are sealed with silicone membranes, allowing the use of the camera also under rain, saltiness, sandy winds and high humidity.
Shutter. The magnetic shutter is under an electronic control and is projected in order to eliminate the operation problems and to assure an operativity and a precision constant in time. The system is constituted by a double curtain series made of super-duraluminium carbon fiber and governed by a magnet with no contacts, in order to delete the frictions caused from the powder. The energetic absorption is minimal and the optimal operating cycle of the shutter is of 150,000 releases.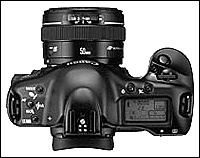 Autofocus and exposure. The AF area contains 45 autofocus points, thickened in an area of 8 x 15 millimeters, and you can manually or automatically activate them regarding to the shooting situation. Each of the 45 AF points is constituted by a detector of horizontal lines, while 7 central points incorporate also a detector of vertical lines, rendering the firing extremely effective. The AIM system integrates the AF system with 6 exposure measurement modes, by measuring the exposure regarding to the position of the subject.
Functions. In order to personalize and to extend the functions of the EOS-1V, Canon released a software under Win98 and a connection between the camera and a modern computer through the USB door. Moreover, the EOS-1V feature an internal memory that stores the data belonging to 25 types of various information, among which the shutter speed, the diaphragm, the operating modes, on the base of a numerical index that the camera prints on the tail of each exposed film.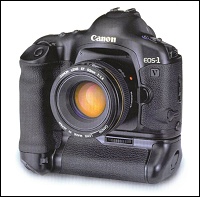 Flash. The autoflash E-TTL (Evaluative Through-The-Lens) system of the EOS-1V integrates itself with the environmental light, in order to gain optimal results, through a pre-flash shot which calculates the environmental light and corrects the flash emission for just each situation. With the dedicated Speedlite 550EX (guide number 55 / 100 ISO) the EOS-1V acquires an E-TTL control without cables even using many flash units, the modeling flash, the automatic zoom of the head from 17mm to 105mm, the manual flash, the flash exposure lock for decentralized subjects, etc. The new Macro Ring Lite MR-14EX (guide number 14 / 100 ISO) and the Macro Twin Lite MT-24EX (guide number 24 / 100 ISO) are planned for a radio control without cables, expose in E-TTL (control of the ambient light), feature Manual flash, High-Speed sync (FP flash), FEB and Modeling flash.
The EOS-1V equipped with the Power Drive Booster PB-E2 (with the Ni-MH Pack NP-E2) shots at the high speed of 10 photograms per second in AF One-Shot mode and of 9 fps in AF AI Servo mode. The booster offers a secondary button for vertical exposures, another for AE exposure lock, a focusing command and a lock button for FE/multi-spot exposure.
Construction and reliability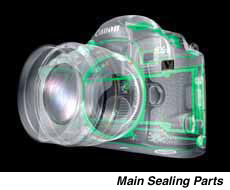 Professional cameras must be resistant to climatic changes and to water, sand and dust. The EOS-1V has been developed to reflect feedback from professional photographers who work in severe environments. Canon has succeeded in raising the level of water and dust resistance. The 72 major body seams and moving parts, such as the shutter button, selector buttons and Main/Quick Control Dials, are carefully sealed with silicone rubber, and the edges of the back cover are thoroughly finished. Furthermore, the battery chamber located inside the new grip GR-E2 is protected by packing, while the insides of function buttons, found on the upper left of the body, are protected from dust and water by a silicone rubber boot. The EOS-1V's electronically controlled rotary magnet shutter has been tested to 150,000 cycles and designed to eliminate the possibility of operational trouble. This shutter unit ensures constant operation that remains as accurate as its original performance even after long use and under severe shooting conditions.
Outstanding AF technology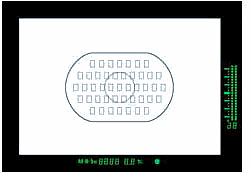 The EOS-1V's 45-point Area AF is the result of Canon's pursuit of an AF system that allows continuous shooting ease and expanded framing freedom. The 45 focusing points are densely packed within an 8 x 15 mm zone and can be manually or automatically selected to meet the needs of the situation. When multiple points are selected, AF system capabilities are significantly extended. Born of Canon's original technology, this system has been refined for the EOS-1V to ensure the unconditional reliability, accuracy and high focusing speeds requisite for professional use. While photographers have the freedom to frame images through the viewfinder as they choose, the lens is automatically brought into focus as soon as the active focusing points cover the subject. Like a human eye, Canon's 45-point Area AF tracks and aims true. This is typical of Canon's state-of-the-art AF technology, recognized by professional photographers everywhere. All 45 focusing points can be used simultaneously for optimum auto focus results or manually selected. The predictive AI Servo AF system allows the tracking of fast-moving objects while maintaining precise focus. This system affords impressive results in terms of continuous shooting and boasts excellent sequential processing efficiency.
Film Transport Technology
The EOS-1V features the world's fastest continuous shooting speed, enabling film transport at an astounding rate of 10 fps. Now Canon gives you the power to transform one dramatic moment into a series of heart-stopping images. With the Power Drive Booster PB-E2 (driven by the NP-E2 Ni-MH Battery Pack) the EOS-1V allows unprecedented levels of visual creativity. Sensational gains in continuous shooting performance mean rapid film transport of up to 9 fps even in predictive AI Servo AF mode, which can focus track a subject approaching the camera at 50 km/h up to 8 meters away (with the EF 300 mm f/2.8L IS USM). What's more, even when set at an intermediate film transport speed of around 3 to 5 fps, the EOS-1V demonstrates outstanding basic performance. For example, the viewfinder blackout time is remarkably shortened, the minimum distance at which a high-speed moving subject can be autofocused is reduced, and so on.
Metering System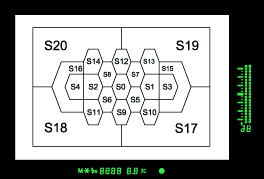 Canon's exclusive AIM (Advanced Integrated Multi-Point control) system integrates Area AF and all six metering modes available with the EOS-1V. Focus on a subject within the Area AF ellipse, and the EOS-1V will meter that area for the optimum result where it's needed most. All six metering modes use the 21-zone evaluative metering sensor.
Metering modes:
21-Zone Evaluative Metering
Partial Metering
Center Spot Metering
Focusing Point-linked Spot Metering
Multi-spot Metering
Centerweighted Averaging Metering
E-TTL Autoflash AE
A-TTL Autoflash AE
TTL Autoflash AE.
Exposure modes:
Program AE
Shutter-speed Priority AE
Aperture Priority AE
Depth-of-field AE
Manual Exposure
Bulb
Customization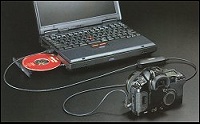 If a PC with EOS Link Software ES-E1 installed is linked with the EOS-1V, camera functionality and the capacity for representation are markedly expanded. You can achieve various forms of customization, function extension, data download by following messages on the monitor screen.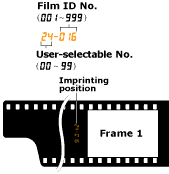 ES-E1 software is primarily intended for advanced Personal Function customization, so users of the EOS-1V can program it to reflect their personal preferences, shooting purposes and conditions. It also allows the management of data relating to settings used for exposed film. Since the EOS-1V has a built-in memory to save shooting data, selectable from 25 items, including shutter speed and aperture values, are automatically saved in the camera's memory each time the shutter is released. At the same time, an arbitrary two-digit number and an auto-incrementing three-digit ID number are automatically imprinted on the film leader. This means the film and shooting data can be matched. The storage capacity of the built-in memory varies depending on the number of items to be recorded. In general, data can be saved for 50 to 200 rolls of film with 36 exposures, with data for 100 rolls being recorded in the standard setting.
Canon EOS-1V: specifications
Type
Type
35mm AF/AE single-lens reflex with focal-plane shutter and built-in motor drive.
Picture size
24mm x 36mm
Compatible lenses
Canon EF lenses
Lens mount
Canon EF mount
Viewfinder
Type
Eye-level pentaprism
Picture coverage
100 percent vertically and horizontally (20 mm eye relief)
Magnification
0.72x (-1 diopter with 50mm lens at infinity)
Built-in dioptric correction
-3 to +1 diopter. (Standard diopter: -1 dpt)
Focusing screen
Interchangeable (9 types), Standard focusing screen: Ec-CIII
Mirror
Quick-return half mirror (Transmission:reflection ratio of 37:63, no vignetting with EF 1200mm f/5.6 or shorter lens)
Viewfinder information
(1) On the screen: Area AF ellipse, focusing points, center spot metering circle
(2)Below the screen: Manual exposure setting, AE lock, flash ready, unsuitable FE lock warning, high-speed sync (FP flash), shutter speed, FE lock (FEL), bulb (buLb), focusing point selection mode, depth-of-field AE (dep 1, 2), aperture, exposure compensation/flash exposure compensation, in-focus indicator.
(3)Right of screen: Exposure level scale (±3 stops), exposure level indicator, flash exposure level, frame counter, frame count down indicator.
Depth-of-field Preview
Enabled with depth-of-field preview button
Eyepiece shutter
Built-in
Exposure Control
Metering modes
TTL max. aperture metering with a 21-zone silicon photocell.
(1) Evaluative metering (linkable to any focusing point)
(2) Partial metering (approx. 8.5% of viewfinder at center)
(3) Center spot metering (approx. 2.4% of viewfinder at center)
(4) Focusing point-linked spot metering (approx. 2.4% of viewfinder)
(5) Multi-spot metering (Max. 8 spot metering entries)
(6) Centerweighted averaging metering
Exposure Control Methods
(1) Program AE (shiftable)
(2) Shutter speed-priority AE
(3) Aperture-priority AE
(4) Depth-of-field AE (not shiftable)
(5) E-TTL program flash AE
(6) A-TTL program flash AE
(7) TTL program flash AE
(8) Manual
(9) Bulb
(Safety shift possible for 2 and 3.)
Metering range
EV 0-20 for all metering modes (at 20°C/68°F with 50mm f/1.4 lens, ISO 100)
ISO film speed range
ISO 6-6400 (Set automatically with DX-coded film at ISO 25-5000.)
Exposure compensation
(1) Autoexposure bracketing (AEB): ± 3 stops in 1/3-stop increments.
(2) Manual exposure compensation up to ±3 stops in 1/3-stop increments set with the Quick Control Dial. AEB and manual exposure compensation can be set together.
AE Lock
(1) Auto AE lock: Operates in One-Shot AF mode with evaluative metering when focus is achieved.
(2) Manual AE lock: AE lock button activates AE lock in all metering modes.
Multiple exposures
Max. 9 multiple exposures per frame. (Cancelable and resettable at any time.) Cancels automatically after all multiple exposures are taken.
Autofocus
Type
TTL-AREA-SIR with a CMOS sensor
Focusing points
Area AF with 45 focusing points
AF working range
EV 0-18 (at ISO 100)
Focusing modes
(1) One-Shot AF: Autofocus stops when focus is achieved, resulting in AF lock.
(2) AI Servo AF: Tracks subject movement up to the start of exposure. No in-focus indicator (blinks at 8 Hz only if AF fails).
(3) Manual focusing: Enabled with the focusing ring when the lens focus mode is set to MF (or M). Electronic manual focusing during continuous shooting and exposure is enabled with PB-E2 and NP-E2.
In-focus indicator
Flashing focusing point in viewfinder (can be disabled with a Custom Function), in-focus indicator, and beeper (can be disabled with the Main Switch).
Focusing point registration and switching
Any one focusing point, 45-point automatic selection, can be registered by pressing the Assist Button and FE lock button. Pressing the Assist Button and focusing point selector switches to the registered focusing point.
AF focusing point indicator
Superimposed focusing point in viewfinder and also indicated on LCD panel
AF-assist beam
Emitted automatically by the attached EOS Speedlite when necessary.
Shutter
Type
Vertical-travel, focal-plane shutter with all speeds electronically-controlled.
Shutter speeds
30 to 1/8000 sec. in 1/3-stops, X-sync at 1/250 sec.
Shutter release
Soft-touch electromagnetic release
Self-timer
10-sec. or 2-sec. delay.
Film Transport
Film loading
Automatic. After film is loaded and the back closed, the film advances to frame 1 automatically, taking about 1 sec.
Film advance system
Automatic film advance with built-in motor.
(1) EOS-1V: Single-frame and continuous shooting.
(2) EOS-1V + Power Drive Booster PB-E2: Single-frame, low-speed continuous, high-speed continuous, and ultra-high speed continuous (w/NP-E2).
Infrared film
Compatible
Film rewind system
At the end of the roll, automatic film rewind with a built-in motor. Midroll rewind possible.
Film rewind time/noise
High-speed rewind: Approx. 4.5 sec. for 24-ex. film and approx. 8 sec. for 36-ex. film at 59 dB
Silent rewind
Approx. 12 sec. for 24-ex. film and approx. 18 sec. for 36-ex. film at 49 dB
Configuration
Power source
Film Advanced Mode
One-Shot AF + Manual Focus
AI Servo AF
EOS-1V
2CR5 lithium Battery
3.5
3
EOS-1V + BP-E1
Size-AA alkaline batteryX4
EOS-1V + PB-E2
Ni-MH Pack NP-E2
10
9
7
7
3
3
Size-AA alkaline batteryX8
6
5
3
3
EOS-1V + Power Drive Booster E1
Size-AA alkaline battery X8
6
5
3
3
| | |
| --- | --- |
| EOS-1V film roll shooting capacity | 24-ex.roll(36-ex.roll) |
Configuration
Power source
Temperature
At 20°C/68°F
At -20°C/-4°F
EOS-1V
2CR5 lithium Battery
75(50)
18(12)
EOS-1V + PB-E2
Size-AA alkaline battery
125(85)
7(5)
Size-AA lithium battery
180(120)
75(50)
Size-AA Ni-Cd
50(35)
36(24)
Ni-MH Pack NP-E2
100(70)
30(20)
Film ID Imprinting (w/standard camera back)
Information Imprinted
Any number from 00 to 99 and film No. from 001 to 999
Imprinting position and size
Frame 0 on film leader, text height approx. 1 mm
Imprinting method
After film advances during initial loading, a minilamp imprints a transparent LCD numerals on the film base. (Imprinting cannot be disabled.)
Imprinting confirmation
During imprinting, the ID mark lights on the LCD panel.
Ambient temperature
Imprinting assured between 45°C/113°F and -10°/14°F
Power source
Same as for the camera
Shooting Data
System
When a picture is taken, the shooting data is automatically recorded in the built-in memory. The data can be later transferred to a personal computer for viewing and editing.
Data recorded
The data cannot be viewed or edited with the camera.
Shooting data memory capacity
With the standard number of data items, shooting data for 100 rolls of 36-ex. film can be stored.
Camera Specifications
Flash contacts
(1) Hot shoe: X-sync direct contacts (2) Right side bottom: PC terminal (threaded)
External flash system compatibility
E-TTL autoflash, A-TTL autoflash, TTL autoflash
Custom Functions
20 (No. 0 – 19)
Personal Functions
3 Custom Function groups can be registered.
Remote control
Remote control/data transfer terminal with waterproof and dustproof cap provided.
Power source
(1) EOS-1V: One 2CR5 lithium battery
(2) EOS-1V + Power Drive Booster PB-E2: 8 size-AA batteries or Ni-MH Pack NP-E2 (sold separately)
(3) Battery Pack BP-E1: 1 2CR5 lithium battery and 4 size-AA batteries (size-AA lithium batteries cannot be used)
Shooting capacity
EOS-1V: See above EOS-1V + PB-E2: See above
Battery check
Automatic when the Main Switch is turned on. Battery level displayed in four levels (not including blank display) on LCD panel.
Dimensions
EOS-1V: 161 (W) x 120.8 (H) x 70.8 (D) mm 6.3 (W) x 4.7 (H) x 2.8 (D) in.
EOS-1V + PB-E2: 161 (W) x 164.3 (H) x 82.5 (D) mm 6.3 (W) x 6.4 (H) x 3.2 (D) in.
Weight
EOS-1V:945 g / 33 oz (body only, excluding battery) EOS-1V + PB-E2: 1380 g / 48.7 oz (body only, excluding battery)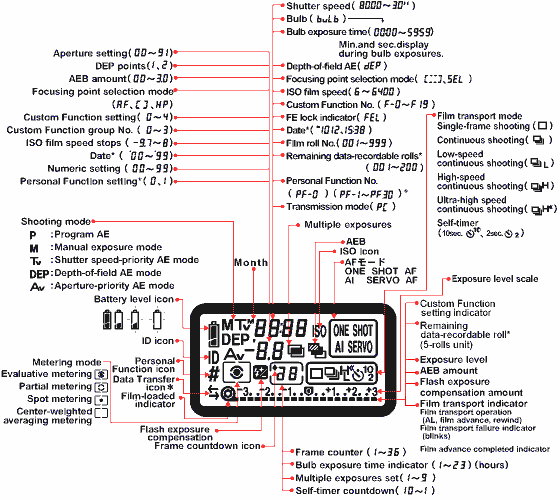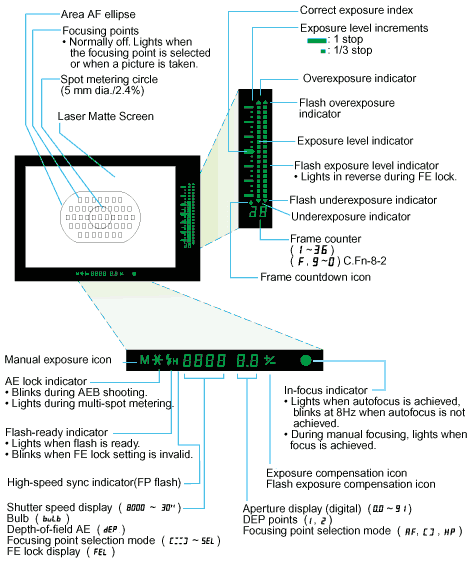 Click the image to enlarge it in a new window:
---
Copyright, Authorship, and Ownership statements
All text and images are copyright ©️ Chrysis.net unless otherwise stated - please see individual cases for authorship and copyright details. The specimens pictured are from the authors' or other collaborators' personal collections and from the collections of various museums. Unless otherwise specified, the whole content of this web site is for personal, non-commercial, scientific, and educational purposes given proper accreditation to the page from which they were derived are provided, and under Chrysis.net Terms and Conditions.
For citation purposes
Agnoli G.L. (2023) Canon EOS-1V, in: Chrysis.net website. Interim version 27 September 2023, URL: https://www.chrysis.net/photography/canon-eos-1v/.