Last updated on June 11th, 2020
An overview of Canon's equipment for macrophotography.
Canon EF 100mm F2.8 L USM Macro with Hybrid IS
Canon continues its advancement of EOS lens technology with the introduction of the high performance EF 100mm F2.8 L USM Macro with Hybrid IS, the latest addition to its prestigious L-series, Canon's flagship professional lens range.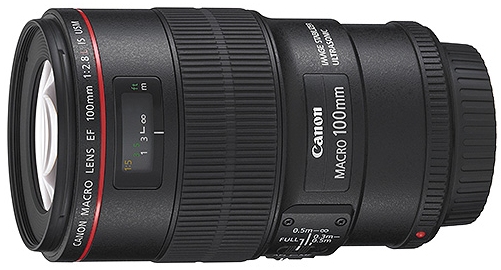 This lens is its first mid-telephoto macro lens to include Canon's sophisticated Hybrid Image Stabilization, compensating for both angle camera shake and shift camera shake, up to four shutter speed steps.
With the highest quality optics available – thanks to ultra low dispersion (UD) lenses, the Super Spectra coating, and a nine blade circular aperture – combined with near-silent ring type USM Autofocus motor and life-size close-up capabilities, the EF 100mm f/2.8L Macro IS USM is simply unrivalled. As part of the L-series the lens features dust and water resistant seals.
Specifications:
Focal Length: 100mm
Maximum Aperture: 1:2.8.
Lens construction: 15 elements/12 groups.
Focus adjustment: Inner focusing system with USM. Full-time manual focus.
Closest focusing distance: 0.99 ft./0.3m (@ 1x).
Filter size: 67mm.
Max. diameter x Length, Weight: 3.1 x 4.8 in./77.7 x 123mm, 22.0 oz./625g.
Our review of the Canon EF 100mm f/2.8L Macro IS USM lens [in Italian only].
Canon MT-24EX Macro Twin Lite flash unit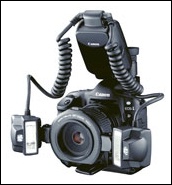 The new Canon Macro Twin Lite MT-24EX is the most advanced flash unit for macrophotography available in any SLR system. This new Macro Twin Lite provides an incredible flexibility by incorporating twin flash heads with adjustable positions for a variety of lighting setups and advanced E-TTL autoflash capabilities (with EOS-1V, EOS-3, EOS-D30, EOS-D60, EOS-1D), and supports TTL auto flash plus manual flash exposure control on all the Canon EOS system cameras.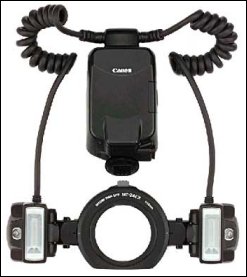 Each individual flash head can be rotated both vertically and horizontally or completely removed from the mounting ring and mounted on a tripod or light stand. The flash heads can be fired together or individually, providing even greater lighting flexibility. In addition, the mounting ring itself can be rotated.
Supplying a powerful maximum Guide Number of 78/22 (ISO 100/ft/m.), the new Macro Twin Lite supports a number of advanced flash metering and customization features, including spot Flash Exposure Lock (FE-L) and bracketing, FP Flash (high-speed synchronization to the camera's maximum shutter speed), variable power manual flash, wireless remote functions (with an unlimited number of 550EX or 420EX Speedlite flash units).

The new MT-24EX is also equipped with twin focusing lamps and a set of 9 Custom Functions that allow the user to modify flash operation for specific shooting conditions. The Macro Twin Lite MT-24EX uses 4 AA-size alkaline, lithium, Ni-Cd or Ni-MH batteries and is compatible with Canon's auxiliary power packs, Compact Battery Pack CP-E2 and Transistor Pack E for faster recycling and a greater number of flashes per charge for extended shooting sessions.
(from the american Canon Press release)
Canon Macro Ring Lite MR-14EX & Canon EF 100/2.8 Macro USM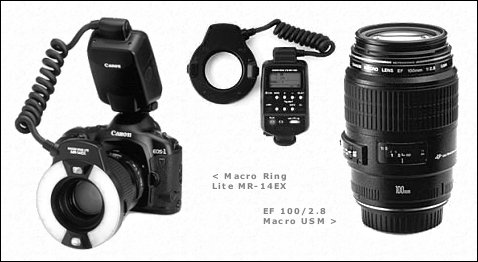 The new Canon Macro Ring MR-1EX is the most advanced and the most versatile ring flash for macrophotography. The MR-1EX offers the full control of the light: the two flash bulbs are independent and the relative powers can be setted from 8:1 to 1:1 or from 1:1 to 1:8, for a maximum control of the shadows. The exposure is E-TTL (like in the torch flash 550EX). The flash can be used with E-TTL full control without cables, with a virtually infinite number of 550EX flash units arranged around the subject, for a truly optimal control of the light. The light control is previewed in real time on the LCD panel of the MR-1EX.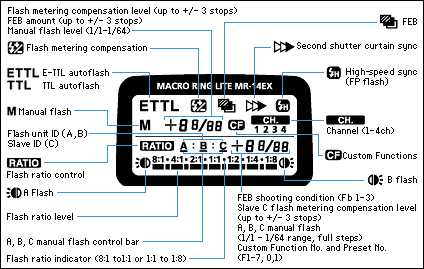 The Guide Number is 14 (@ 100 ISO) and the minimal operative distance is hardly 2cm. More: exposure lock (FEL) with the semispot and spot exposure modes also on decentralized particulars, high synchronization speed (up to the shorter supported shutter speed), manual flash with variable power (decreasing power down to 1/64), exposure compensation in a range of +/- 3 stops. The MR-1EX flash is compatible with all EOS cameras and also with the Canon T90, even if it has been projected in particular for the EOS-3 and the EOS-1V (with which E-TTL functions are available). Among the accessories, the remote power source CP-E2, furnishing a strong decrease in recharging times and increasing the autonomy of the flash.
To complete of the rich EF Canon macro system, the new and sharp EF 100/2.8 USM Macro lens has arrived. The lens has been completely redesigned, so as to add the speed of the ultrasonic focusing (full-time manually assisted), the inner focusing (without any movement of the frontal element and without any increment of the lens length) and to improve the optical quality regarding the previous 100/2,8. The inner focusing system has allowed to maintain its dramatic sharpness from the center to the edges of the photogram, for all the shooting distances.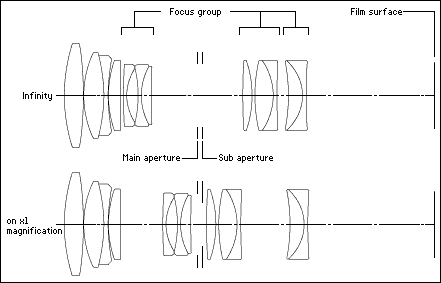 Quick specifications of Canon EF 100/2.8 Macro USM:
Lens construction: 12 elements in 8 groups
Minimum Aperture: f/32
Minimum Focusing Distance: 15cm (from the frontal element)
Maximum Magnification: 1x
Filter Diameter: 58mm
Weight: 600g
Canon EF Macro Photo 65mm f/2.8 1~5x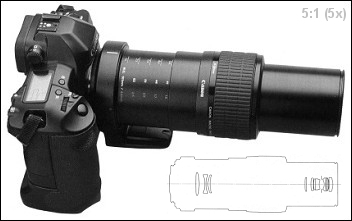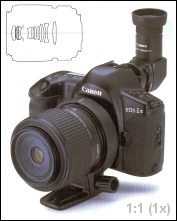 Special lens especially destined to macrophotography (it doesn't focus to infinite). The magnification is zoomable and ranges from 1:1 (1x, natural dimensions) to 5:1 (5x, 5 times the natural dimensions) by turning the focusing ring and increasing the extension. High mechanical rigidity and complex optical scheme: 10 elements in 8 groups, one low dispersion / high refraction lens, in order to obtain a high chromatic correction.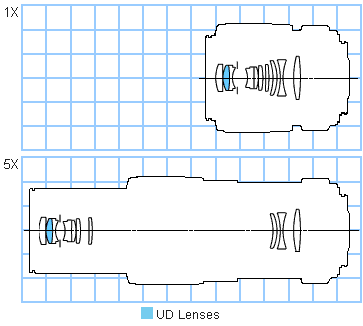 The front lenses present a multilayered treatment, in order to reduce the parasite lights, and the internal mechanics are covered by an absorbent paint. The quality is assured from the center to the borders of the photogram. The view through the lens is clear and contrasted, thanks to the f/2.8 maximum aperture.
Aperture range: F2.8-F16. The lens doesn't close beyond f/16 because of the succession of the diffraction. In case of 5x magnification is not advisable to go beyond f/11.
Focusing: manual.
Focusing distances: 10cm for 1:1, 4cm for 5:1.
Range field: 24x36mm for 1:1, 5x7mm for 5:1.
Advised operativity: tripod (the lens is equipped with a tripod ring) and flash ring.
Metz Mecablitz 15 MS-1 Digital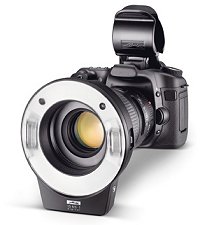 The Metz mecablitz 15 MS-1 digital has two individually adjustable reflectors (0°- 20°). As a result, this new flash unit ensures precise and creative lighting in the macro range. The Metz mecablitz 15 MS-1 digital automatically adjusts its light output by means of wireless TTL (if together with a master flash unit), making it particularly reliable and precise. You can use also the manual control mode in order to vary the amount of light with six levels of light output. There is also an LCD display which makes the Mecablitz 15 MS-1 digital even easier to use. Built-in rechargeables batteries. The Metz mecablitz 15 MS-1 digital is suitable for all camera manufacturers (Canon, Nikon, Olympus, Panasonic, Pentax, Samsung and Sony-Alpha).
Max. GN of 15 for ISO 100/21° and 50 mm
High number of flashes (e.g. 200 full flashes with NiMH batteries, 1000 mAh)
Flash recycle time 0.3 – 5 secs (depending on the energy source and flash output)
Reverse adapter Novoflex/Canon EOS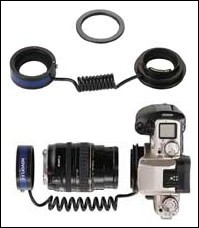 The adapter opens the world of extreme close-up photography to users of Canon EOS cameras with wide angle or zoom lenses. The lens is mounted on the adapter in reverse position, ensuring outstanding quality of the resulting photographs.
The adapter transmits all the lens information to the camera body. Using a Canon EOS zoom lens with a focal length of 28-105 in reverse position, the adapter allows the user to take photographs with magnification ratios of 1:7 at the 105mm end to 2.8:1 at the 28mm setting.
No prime macro lens is capable of matching this range (except the specialistic Canon MP 65/2.8 1~5x). The adapter is supplied with 58mm treads, but adapter rings for lenses with other filter thread sizes are available.
Dimension: 75 mm
Weight: 160 g
Max cord length: 550 mm

More info: www.novoflex.com
---
Copyright, Authorship, and Ownership statements
All text and images are copyright ©️ Chrysis.net unless otherwise stated - please see individual cases for authorship and copyright details. The specimens pictured are from the authors' or other collaborators' personal collections and from the collections of various museums. Unless otherwise specified, the whole content of this web site is for personal, non-commercial, scientific, and educational purposes given proper accreditation to the page from which they were derived are provided, and under Chrysis.net Terms and Conditions.
For citation purposes
Agnoli G.L. (2023) Canon EOS Macrophotography, in: Chrysis.net website. Interim version 30 September 2023, URL: https://www.chrysis.net/photography/canon-eos-macrophotography/.