Last updated on June 7th, 2020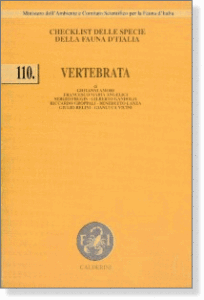 Minelli A., Ruffo S., La Posta S. (eds)
1993-1995
Checklist delle specie della Fauna d'Italia [Checklist of the species of the Italian Fauna]
(In Italian)
Calderini Ed., Bologna.
Summary. The project "Checklist of the species of the Italian fauna" allowed for the first time in Europe the complete inventory of the animal species of a whole country, recording 57,422 species (56,168 invertebrates and 1,254 vertebrates). The project was developed through an agreement between the Nature Conservation Service and the Scientific Committee for the Fauna of Italy, which is an expression of the Italian Zoological Union and the National Academy of Entomology. 272 specialists from 15 countries were involved in the project.
The "Checklist of the species of the Italian fauna" lists all species known up to the year of its publication. Species are uniquely identified by numerical codes. The work is divided into 110 issues.
Detailed information: http://www.faunaitalia.it/checklist/.
Issues on Hymenoptera
[…]
Hymenoptera Symphyta
Hymenoptera Trigonalyoidea, Evanioidea, Stephanoidea
Hymenoptera Ichneumonidae
Hymenoptera Braconidae
Hymenoptera Cynipoidea
Hymenoptera Chalcidoidea
Hymenoptera Proctotrupoidea, Ceraphronoidea
Hymenoptera Chrysididae
Hymenoptera Bethylidae, Dryinidae, Sclerogibbidae, Embolemidae
Hymenoptera Scolioidea
Hymenoptera Formicidae
Hymenoptera Vespoidea
Hymenoptera Pompilidae
Hymenoptera Sphecidae
Hymenoptera Apoidea
[…]
---
Copyright, Authorship, and Ownership statements
All text and images of this page are copyright ©️ Chrysis.net unless otherwise stated - please see individual cases for authorship and copyright details. The specimens pictured are from the authors' or other collaborators' personal collections and from the collections of various museums. Unless otherwise specified, the whole content of this web site is for personal, non-commercial, scientific, and educational purposes given proper accreditation to the page from which they were derived are provided, and under Chrysis.net Terms and Conditions.
For citation purposes
Agnoli G.L. & Rosa P. (2023) Checklist delle specie della Fauna d'Italia, in: Chrysis.net website. Interim version 27 September 2023, URL: https://www.chrysis.net/resources/checklist-specie-fauna-italia/.