Last updated on June 7th, 2020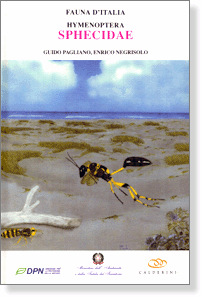 Pagliano G. & Negrisolo E.
2005
Hymenoptera Sphecidae (In Italian)
Series: FAUNA D'ITALIA, Vol. 40.
Il Sole 24 Ore – Edagricole, xii + 560 pp., figures, photos.
ISBN: 9788850651283.
ISBN-10: 8850651287.
EAN: 9788850651283.
Summary. Sfecids are a family of wasps distributed worldwide and well represented in Italy, where, in addition to native species, also some species from America and south-east Asia are recorded.
This book, which represents the state of the art of the research on Sfecids in Italy, provides a list of species recorded from Italy and analyzes, among other topics, the morphology, biology, and chorology. The Italian fauna, with more than 380 species, can be considered extremely rich in comparison with the 400 species known for the whole western Europe.
ORDERS | ORDINI
Online book shops
---
Copyright, Authorship, and Ownership statements
All text and images of this page are copyright ©️ Chrysis.net unless otherwise stated - please see individual cases for authorship and copyright details. The specimens pictured are from the authors' or other collaborators' personal collections and from the collections of various museums. Unless otherwise specified, the whole content of this web site is for personal, non-commercial, scientific, and educational purposes given proper accreditation to the page from which they were derived are provided, and under Chrysis.net Terms and Conditions.
For citation purposes
Agnoli G.L. & Rosa P. (2023) Fauna d'Italia, 40. Hymenoptera Sphecidae, in: Chrysis.net website. Interim version 30 November 2023, URL: https://www.chrysis.net/resources/fauna-italia-hymenoptera-sphecidae/.