Last updated on June 7th, 2020
Shooting (with the camera) to a Stilbum cyanurum.
Text and photos by Alessio Perboni.
Near Lecco, Italy, summer 2004. The subject is a male of Stilbum cyanurum (Forster, 1771), which presents a variable coloration according to the light direction, with beautiful red reflexes on the gaster. These glares are visible on many specimens coming from the center-north Italy, making them apparently similar to the species Stilbum calens (Fabricius, 1781).
The first photos show the Stilbum hunting for nectar on flowers of Celosia argentea L. (Family: Aramanthaceae). The remaining photos show the Stilbum in activities of self-care for head and legs, resting on a leaf.

 click images to enlarge:
The characteristic anal edge is visible, blue-metallic in color. The last photo shows the brow carina, particularly glaring.
Although it was constantly pushed away from the ants, the Stilbum was flying and landing back to the flowers, after regular and slow flights, also because of the spoiled margins of the wings. Moreover, it wasn't particularly disturbed by the presence of the photographer.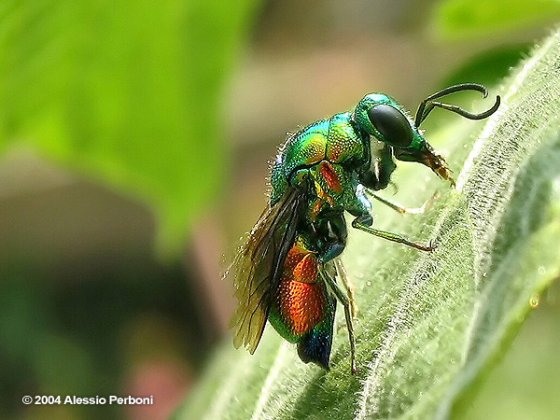 Canon PowerShot A70 with enlargement 105mm; natural light and free hand; ISO 50; times from 1/100″ to 1/320″; diaphragms from f/6.3 to f/8.0 and an enlarger lens mounted in front of the camera's lens.
---
Copyright, Authorship, and Ownership statements
All text and images of this page are copyright ©️ Chrysis.net unless otherwise stated - please see individual cases for authorship and copyright details. The specimens pictured are from the authors' or other collaborators' personal collections and from the collections of various museums. Unless otherwise specified, the whole content of this web site is for personal, non-commercial, scientific, and educational purposes given proper accreditation to the page from which they were derived are provided, and under Chrysis.net Terms and Conditions.
For citation purposes
Agnoli G.L. & Rosa P. (2023) Stilbum cyanurum, in: Chrysis.net website. Interim version 30 September 2023, URL: https://www.chrysis.net/chrysididae/stilbum-cyanurum/.