Last updated on November 28th, 2023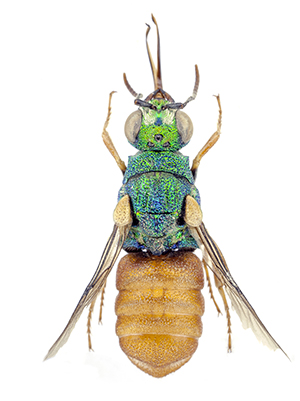 From: Kimsey L.S. & Bohart R.M., 1990 (1991) – The chrysidid wasps of the world. Oxford University Press, ix-652 pp.
Synonymy
Parnopes Latreille, 1796:126. No species. Latreille 1802:317. Type: Chrysis carnea Fabricius 1775:357 (=Chrysis grandior Pallas 1771: 474). Monobasic.
Generic diagnosis
The subfamily Parnopinae Dahlbom, 1854 is a small subfamily comprising only three genera, one of which occurring in Italy (Parnopes). It differs from the Chrysidinae because of the 4 visible terga in males, the greatly developed tegulae, which cover the base of both wings, and the structure of the tongue.
Large size, robust body. Ligula longer than the length of the eyes, tubular, with highly developed gloss and galea; maxilliary palps with three segments, or less; labial palps absent or with two segments, the mouth parts are kept folded under the body in the resting position. Tegulae subovoidal; metanotum with a large projection, apically truncated. Femurs of females belonging to the grandior-group with spines that are used to scrape the nest of the host. Abdomen not metallic, or partially metallic (only the T-I, sometimes only partially).
Distribution
Parnopes is a Holarctic genus with 4 species in the Palearctic region and 7 in the Nearctic, 2 species in India and 1 in Africa. In Italy and Europe occurs the only species P. grandior and its endemic subspecies linsenmaieri from Sardinia.
European species
---
Copyright, Authorship, and Ownership statements
All text and images of this page are copyright ©️ Chrysis.net unless otherwise stated - please see individual cases for authorship and copyright details. The specimens pictured are from the authors' or other collaborators' personal collections and from the collections of various museums. Unless otherwise specified, the whole content of this web site is for personal, non-commercial, scientific, and educational purposes given proper accreditation to the page from which they were derived are provided, and under Chrysis.net Terms and Conditions.
For citation purposes
Agnoli G.L. & Rosa P. (2023) Genus Parnopes Latreille, 1796, in: Chrysis.net website. Interim version 10 December 2023, URL: https://www.chrysis.net/database/genus-parnopes-latreille-1796/.